When drilling a well the goal is to do so as efficiently as possible. The overall efficiency particularly depends on the rig overall capacity and how equipment layout and functionality is set up and its rig crew.
As such, it is crucial to have optimal handling systems in order to enhance time consuming operations, ensure safe operations and achieve maximum performance.

In this blog, we will discuss the pros and cons of choosing tailor made moonpool solutions over standard solutions, to optimize the rig subsea handling performance.


What is tailor-made moonpool solutions?
The moonpool area is a key area on a drilling rig. Particularly on floaters, operations in this area can be hazardous, time consuming and often challenged by rough weather conditions. In addition, the area typically is congested, involving a variety of different operations less suited for automation or mechanization.

Different drilling campaigns, i.e. exploration and development drilling for different clients on various locations with requirement to handle subsea equipment from various vendors, also adds to the complexity of material handling and execution of drilling operations.

Added together, these challenges dictates that no rig can be delivered from yard or be prepared to handle every scenario effectively.
Consequently, tailor-made solutions/adaptions for defined moonpool operations and for each drilling contract may be a commercially attractive option, and/or a necessity based on HSE requirements.
Tailor-made moonpool solutions are equipment designed to fit one specific rig and in order to optimize specific operations w.r.t. time and safety. In most cases a rig delivered from yard will be designed to meet generic drilling and field specifications, and tailor-made moonpool equipment for a specific drilling campaign will not be included.
Suggested reading: How Tailored Moonpool Handling Systems Can Improve Safety (HSE)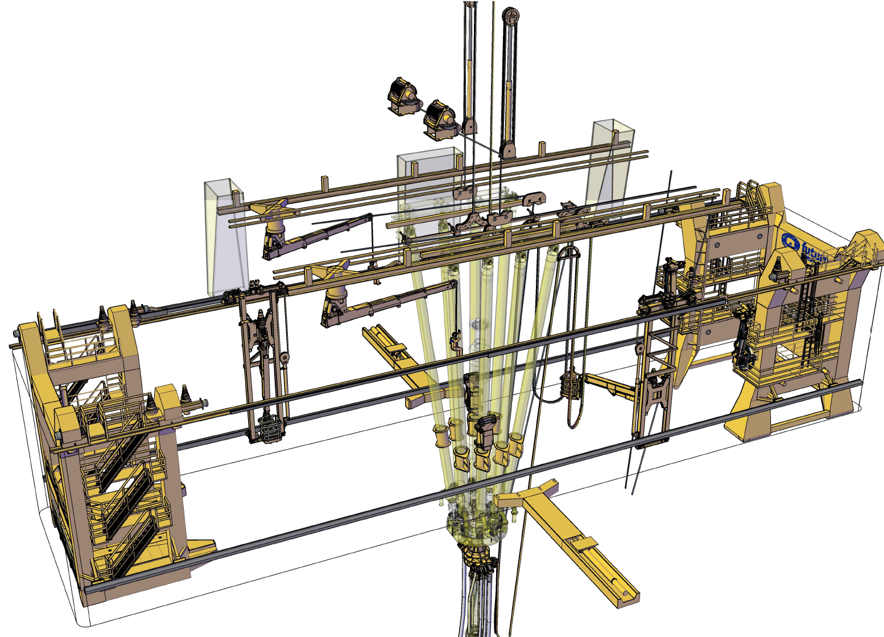 Pros of tailor-made solutions
A newbuild vessel is typically designed to meet generic drilling requirements and are delivered with standardized equipment systems. For a defined drilling campaign, rigs will be evaluated based on earlier performance or perceived performance for a newbuild.

On most rigs, the moonpool area holds a lot of unused potential. Such potential can be released by considering the planned drilling operations, subsea equipment to be used, environmental conditions, HSE requirements, etc, and tailor make the moonpool handling equipment accordingly. Any effort of consideration will guaranteed pay off in saved time and operational flexibility.
Based on years of operational experience and engineering knowledge, tailor made solutions and upgrades are now available. Today's system upgrades have several positive advantages.

Left: Tailor-made DAT Arrest system to remotely and handsfree secure DAT cylinders against lateral movement. The equipment is firmly secured in reduced time and with less personnel involved.
Right: Tailor-made Tension Ring Handling Arms installed to connect / disconnect DAT Cylinders to Telescopic Joint handsfree in reduced time.
Considerations for tailor-made solutions
Drilling rigs competing for work will always be evaluated based on its previous performance, HSE record, overall cost and suitability for the contract it is tendering for. If a rig (or rig owner) does not meet a minimum threshold set by the tender, it may be disqualified from bidding.
For some drilling campaigns, a "standard" moonpool solution may meet the oil-companies technical requirement. However, the rig may be considered less efficient and be given the option to invest in more efficient and/or safe equipment, or offer the rig to a reduced day rate to remain competitive.
In general a tailor-made solution, assuming it is well engineered, will deliver better performance than a "standard" solution would be capable of. However, not every investment in moonpool equipment is equally profitable; each investment should be considered based on e.g;


Cost/return on investment
HSE aspects
Environmental footprint
Time to implement
Efficiency gain
Installation time/Interruption of ongoing operations
Contract duration
Competitive situation
Future market opportunities
Company profile
Etc
Reduce time spent on critical path operations
Tailor-made handling equipment will increase efficiency and extend the operational weather window, directly contributing to reduce the environmental footprint by shortening time spent on critical path operations.
Increased efficiency will also mean less Non Productive Time (NPT) and directly translate into less emissions and reduced overall costs, not only for the drilling rig itself, but also for all support vessels (helicopters, supply vessels, anchor handlers, etc.)

Left: Tailor-made BOP Handling system where time to run BOP and Riser was reduced to one third of original time with less personnel involved and much safer operations.
Right:Tailor made subsea winch to be installed any place on the rig and with passive or active compensation and SWL and wire length to suit operational requirements.
Reduce risk for people and equipment
Optimizing your moonpool handling systems will enable your crew to maintain drilling activities and operate the equipment safely and efficiently and at the same time reduce exposure to hazardous operations.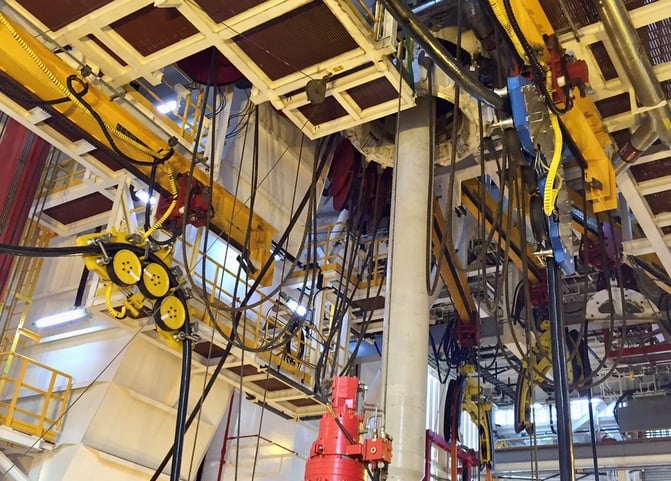 Tailor-made motorized umbilical saddles to ease umbilical handling in moonpool for riser clamping and storm loops etc. Time to run riser is reduced and safety is increased.
Reduce environmental risks
Typically, spillages/unintended leaks can be prevented with improved designs, robust equipment, and well planned regular maintenance.
Suggested reading: How Can Tailormade XMT Handling Systems Improve your NPT
Potential positive consequences
These advantages of tailoring your moonpool handling systems will lead to safer operations, improvement of your reputation, earned bonuses linked to operational efficiency, extending your rig contract, staying attractive to key clients in the market, and being able to compete in the market despite having an older rig.
Conclusion
The moonpool area is, due to its nature of operations, and due to the complex purpose of its functionality, suited for tailored solutions to ensure safe and efficient operations.