Optimizing your moonpool handling systems comes with great benefits. However, poor market conditions, bare minimum rigrates and significant cash restraints have created high investment hurdles and capital expenditure (CAPEX) restraints for many rig owners.

Typically, an investment in capital equipment will be required to meet certain company specific criteria e.g for payback-time or Internal Rate of Return (IRR) to be approved.

The investment cost will be measured against increased operational efficiency, reduced time needed for a specific operation, reduction in number of personnel required, increased safety, etc.

Over the last few years, rig owners have been struggling with low rig utilization, very low day rates and a challenging liquidity situation, including bankruptcies and Chapter 11 processes.

However, the rig market is now improving and higher day rates and longer term contracts can be observed. This opens up for long needed investments in improved rig efficiency and safety.
In this blog article we will discuss the cost benefit of investing in a ClickStab system. i.e a Handsfree Gooseneck Handling System (connecting Kill & Choke, boost and conduit lines (utility lines) to the slip joint/riser), and how its CAPEX can be justified by significant efficiency and safety improvements.
Connecting/disconnecting utility lines on an offshore rig
Connecting or disconnecting the utility lines is a time consuming and weather dependent operation performed each time the BOP is run or respectively pulled. The operation is performed in/over the moonpool area, arguably the most hazardous and weather exposed area on an offshore drilling rig.
Most offshore rigs connect/disconnect the utility lines by use of winches, sheaves, oversea manriding operations, temporary arrangements and manual work with risk for personnel. Connecting the utility lines may take up to a shift (12 hours, or more pending weather conditions) and involve a dozen personnel directly in the operation. In addition comes work preparations, including safety preparations and rig up/rig down.

Due to its inherent risks, the safety aspect related to operations over open sea and in the moonpool area is a particular concern for the rig owner and its client (typically an oil company).
Especially in harsh environment drilling operations, performing connect/disconnect of utility lines will require strict adherence to operational safety procedures and company safety standards.
Suggested reading: Common Problems with Kill and Choke Connections - From Hours to Minutes
The ClickStab System
The ClickStab system is a mechanized, handsfree Gooseneck Handling system, which means there are only one or two people operating the system – from a distance and in a safe position. The system connects Kill & Choke, Boost and Conduit lines in just a few minutes.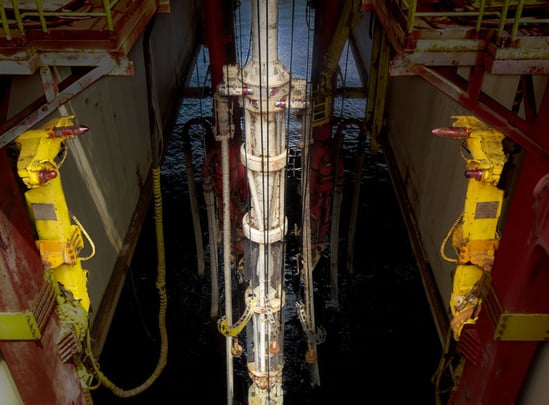 ClickStab significantly reduces operational cost (time) and eliminates safety hazards:

-
CAPEX payback typically in 10 BOP runs
Connection of utility lines will typically take 10 minutes with a ClickStab system compared to up to 10-12 hours with a manual operation. Based on a rig dayrate of 250.000-400.000 Usd/day the CAPEX investment for a ClickStab system will be justified in increased rig efficiency after 10 BOP runs.

-
Reduces overall cost
An offshore drilling campaign requires additional services (supply vessels, anchor handlers, helicopter services, etc) to be performed to support the drilling rig operations. The oil company ultimately responsible for the drilling campaign will foot the bill for the complete operation. Their daily cost for these offshore operations (often called "spread cost") will normally total 2-3 times the daily drilling rig rate.

Needless to say; the prime beneficiary of contracting a drilling rig with a ClickStab system installed will be the oil company.

-
Reduces need for personnel involved
While a manual operation to connect/disconnect utility lines may directly involve up to 10-12 persons for up to 10-12 hours, a ClickStab operation will involve 1-2 persons for minutes. In a manual operation additional time will be spent on Safe Job Analyses (SJA's) and other formalities to prepare the operation. A ClickStab system will also free up valuable manhours for other tasks.
-
Increases weather window
A manual operation to connect/disconnect utility lines will inevitably require personnel to work in a hazardous area and over open sea from work baskets/exposed platforms or hanging in riding belts. Obviously these activities represent a risk to personnel and narrows the weather window in which these operations can be performed.
In a worst case scenario, the weather can prevent the rig from executing this operation, postponing it until the weather conditions are acceptable. A ClickStab system will eliminate all work over open sea and hence increase the weather window for running/pulling the BOP.

-
ClickStab improves working area conditions
A ClickStab quality that is often understated is its ability to improve moonpool area working conditions in general. The moonpool area is a congested area which reduces efficiency and creates work hazards. With a ClickStab system installed, Kill & Choke, conduit and boost hoses will be arranged and parked in a convenient position not to obstruct other operations.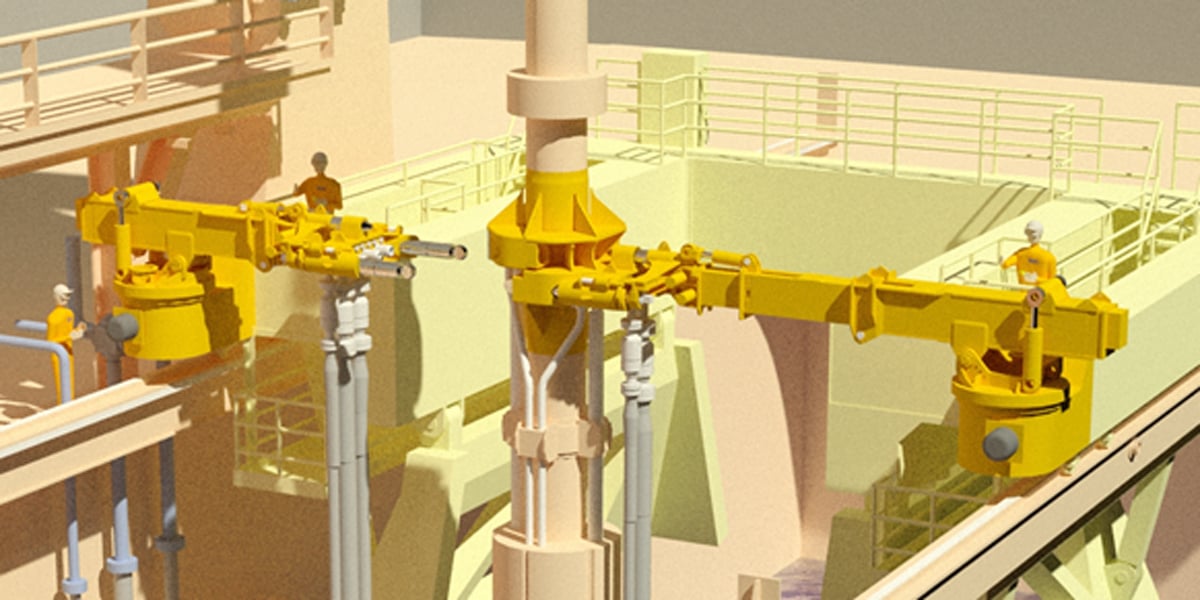 -
Reduction in CO2 emissions
A ClickStab system significantly increases efficiency (and safety) and therefore will reduce the time required to complete a well and maintain drilling operations and its supporting activities, ref above.

Reduced operating time means reduced emission of e.g CO2 to the environment.

-
Stable and reliable system
The ClickStab system is robust and easy to inspect and maintain. All parts and lubrication points will typically be available from platforms/deck and no riding belt/work basket operations are required. This results in improved safety and a low maintenance cost for the system.

-
Minimized downtime during installation
The system can be installed while the rig is at quayside, on an offshore location and even offshore while the rig is in operation (subject to the nature of rig operations).

This flexibility is valuable in any respect and minimizes lost revenue for the rig owner (and thereby reduces cost for an oil company if the rig is on contract).
Suggested reading: Pros and Cons of Standard vs Tailor-made Moonpool Solutions
Conclusion
The ClickStab system is a proven system and its capabilities to improve rig efficiency and safety are well documented.

By installing a ClickStab system the rig owner will improve rig efficiency and safety, and the rig itself will become more competitive. The cost benefits of installing the ClickStab system are proven, and it quickly pays back the investment.

However, limited visibility and challenging market conditions for the drilling contractors the last years, have forced them to carefully consider any investment relative to oil company requirements for a particular contract, especially if the oil company is not willing to compensate directly or indirectly through the operating dayrate for the additional efficiency or risk reducing investments.

In this scenario, drilling contractors typically have asked the relevant oil company to fund or share the financial burden of investing in improved efficiency and safety equipment. This is logical and a consequence of the oil company being the prime beneficiary of installing e.g a ClickStab system.

In many cases such discussions have resulted in minimum investments and acceptance of less capable solutions.

It is time for the oil companies to walk the talk.